There are so many big events  in Dublin in 2015 that it is hard to narrow them down to just ten. However here is our selection of some of the best of the action in the coming year.
So, why not plan to take a trip to Dublin and take in one of these events?
TradFest Temple Bar
28 Jan 2015 – 1 Feb 2015
Traditional and folk music in some of Dublin City's most popular venues.  Big names this year include Donovan, The Levellers, The Undertones, Mick Flannery, Matt Molloy, Cara Dillon, Liam O'Flynn, Paddy Glackin, The Hothouse Flowers and many more.
For full programme see www.templebartrad.com/

St. Patrick's Festival 2015
14th – 17th March
Music, parades, fun, dance, street theatre and more on the streets of Dublin leading up to the spectacular Festival Parade on 17th March.
A great family occasion celebrating Ireland's patron saint.
What's on this year?
Numerous events including Festival Treasure Hunt, Walking Tour, Céili House, 5k road race, Greening the city and lots of music and performances on the streets, in theatres and pubs throughout the city.
Jameson Dublin International Film Festival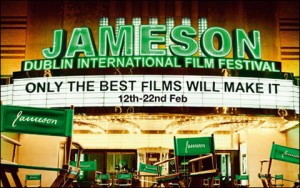 19th March – 29th March
The Jameson Dublin International Film Festival (JDIFF) is Ireland's leading feature film festival and has been on the go since 2013.
Most of the films shown at the film festival are Irish premieres and the festival showcases the best of new Irish and International films in various categories.
See www.jdiff.com for more details
Dublin Bay Prawn Festival
23rd April – 26th April.
Based around Howth in north county Dublin where there are many excellent fish restaurants, this festival will serve up your prawns whatever way you like – barbecued, whole, shelled, fried, skewered, marinated orany way you can think of.
A gourmet's dream!
Also a market of local foods, fishery skills, family fun and historical walks around Howth.
See dublinbayprawnfestival.ie for detailed programme.
Bloomsday Festival
9th June – 16th June
This annual festival which celebrates James Joyce leads up to Bloomsday in which participants engage in various activities including dressing up in period costume, readings, pub crawls and eating fried kidneys for breakfast, all in memory of a day in the life of Leopold Bloom in 1904 in Joyce's work 'Ulysses'
A great week for all Joyce fans, many of whom come from UK, USA, Japan and Europe.
One of the great Joyce performers who has performed throughout the years is Senator David Norris. See him perform here
The Dublin Horse Show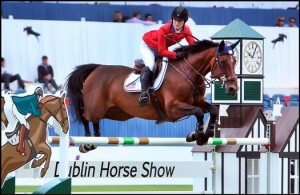 5th August – 9th August
One of the biggest events in Dublin's sporting calendar this long running International Horses Show features exciting horse classes,  international show jumping and fun for family or friends.
Please note that all accommodation in the area around the venue (The RDS in Ballsbridge) gets booked out fast so early booking of accommodation is essential.
Dublin Fringe Festival
4th  September – 20th September
This festival is in its 21st year and features new work by Irish and International artists in Music, Comedy, Dance, Theatre, Performance Arts and more. Events are held at numerous venues throughout the city including theatres, art galleries, studios, hotels, churches and outdoor venues.
See more at fringefest.com/festival.
GAA All Ireland Hurling Final
6th  September
80,000 fans will descend on Croke Park for the highlight of the hurling year. Who will be in the final this year? Last years winners Kilkenny or perhaps Clare, Limerick, Cork, Tipperary or Dublin? Or is there a dark horse?
Whoever it is, accommodation will be in great demand, so book early.
GAA All Ireland Football Final
20th September 2015
Like the hurling final, Croke Park will be packed. Last year's winners, Kerry, will be live contenders but there are many others including Cork, Galway, Mayo, Donegal, Tyrone, Armagh, Kildare and Meath. Or maybe Monaghan?
Book accommodation early!
Dublin Theatre Festival
24th September – 11th October
Established in 1957, Dublin Theatre Festival is an annual event which is considered by many to be one of the best in the world. This festival of world-class theatre brings the best of theatre to Dublin and showcases the best of Irish theatre to the world.
The programme for 2015 has not yet been finalized but one performance to watch out for is 'The Curious Incident of the Dog in the Night-Time' at the Bord Gáis Energy Theatre.
Keep up with developments at dublintheatrefestival.com